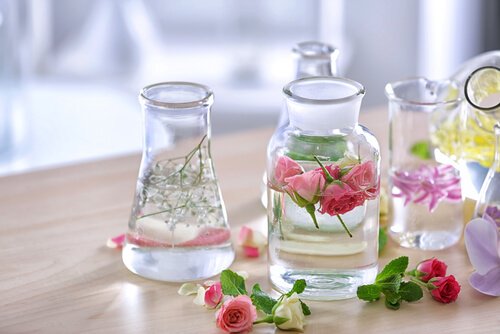 If you believe in nature's healing flowers, keep reading. You'll learn what flower essences are and if they're worth the attention they're getting everywhere.
Should you give them a go? Or is it a no?
What are flower essences?
Flower therapy, also called essence therapy, uses liquids and the flower's unique vibrational energy to help you feel better. This practice is a beautiful blend of herbal and energetic medicine.
You may also know flower essences as flower remedies. While they're becoming quite common in health and supplement stores, the concept of flowers balancing emotions was developed by a British homeopathic doctor named Edward Bach in the 1930s. He believed flowers can elevate your mood, let go of fears, and support your physical and emotional well-being.
What is the difference between a flower essence and essential oil?
Now you might be familiar with essential oils so let's compare these two first. Mainly their difference lies in the preparation and method of use.
You see, flower essences are prepared by gathering fresh blossoms in the early morning of a sunny day. Next, you need to place them in a bowl of water to bask in the sunshine for several hours. This process creates pure undiluted flower essences ('mother essences') with the unique energetic imprint of the flower.
Lastly, the mother essences, also called mother essence tinctures, are preserved with grape alcohol and make the stock flower essences that are sold. You can take flower remedies orally or apply them to a specific area.
On the other hand, you can make essential oils by steaming or pressing certain plant parts and then diluting them in carrier oils. They're typically inhaled or used topically though some take them orally as well.
H

ow do you choose a flower essence?
If you're thinking of making flower essences for yourself, there are a couple of ways to select which ones to use. Both methods start with setting an intention.
Ask yourself:
● What kind of help do you need right now?
● What thoughts and emotions are present?
Once you have set an intention, you can either go through the store's catalog and choose those that resonate with you or even just relax, open your eyes and pick the flower kit that speaks to you.
Now, what does science say about flower essences?
Helping anxiety
Flower remedies may help reduce anxiety. A 2020 study in India showed that Bach flower therapy helped kids feel calmer at their dental appointment.
Meanwhile, an earlier study in 2018 documented interviews with obese individuals who reported that they use flower remedies to feel calm and have more self-awareness.
Getting sleep
Aside from lowering anxiety, you may find essence therapy helpful in getting zzzs.
With COVID-related anxiety, many people find it hard to get a good night's sleep. In a relevant 2021 study on 150 health professionals, the researchers found that flower essences taken orally improved the participants' mental health, insomnia, and emotional outlook, especially during the lockdown period.
Similarly, in an earlier 2017 case study, the researchers also saw improvement in sleep in a postmenopausal woman who struggled with insomnia. She took a flower blend for 4 months and shared she experienced better sleep.
Relieving pain
Flower remedies also show potential for pain management. A 2017 study concluded that Bach flower remedies were effective in reducing pain and severity of symptoms felt by people with moderate carpal tunnel syndrome. In this study, the participants experienced relief after applying a flower-based cream.
In addition, an earlier study in 2008 investigated the role of these flowers in pain control. The study proposed that it can reduce your perception of pain by alleviating anxiety.
Learn more about Flower Essences
If you want to dive into the beautiful world of flower essences and explore their healing potential, check out our events section for upcoming classes.