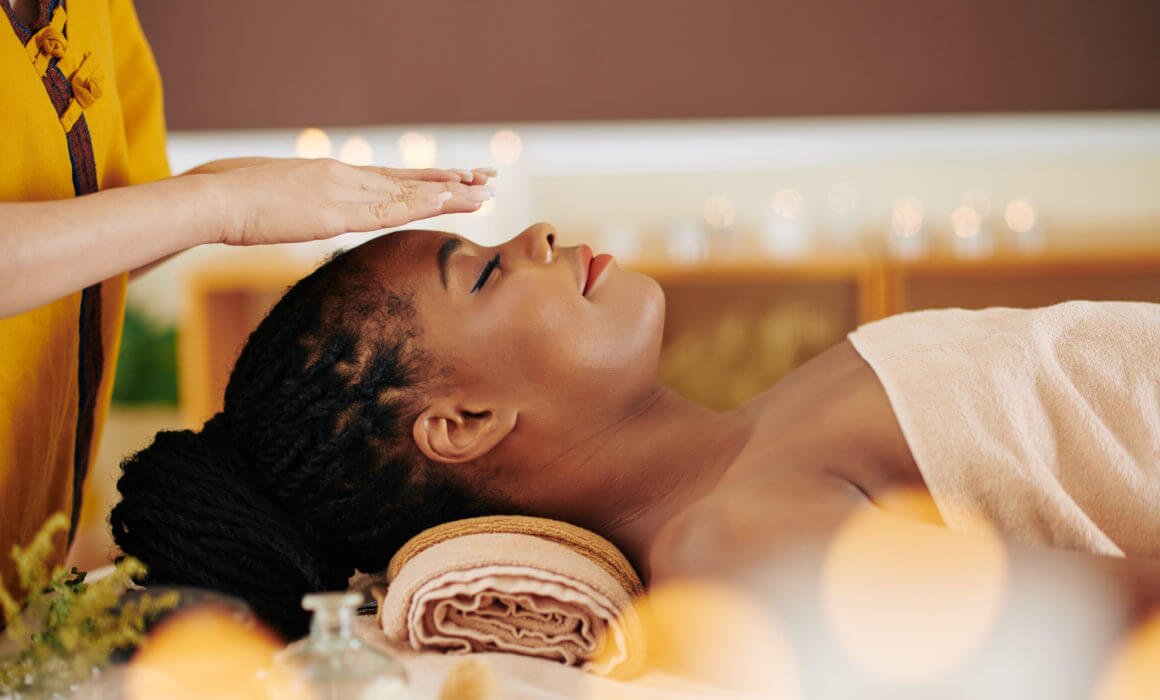 Are you desperately in need of a good night's sleep? Does your mind feel like a circus the moment your head hits the pillow? The answer might just be in the palm of your hands! So, read on to learn how to use reiki for sleep.
What's It Like to Try Reiki?
The Japanese energy healing art called Reiki involves transferring life energy or universal spirit from the palm of the practitioner to you. This in turn helps keep your life energy flowing smoothly and contributes to your overall health.
During your first reiki session, you'll talk with your Reiki practitioner and set your intention. Your Reiki session will usually last for 30 to 60 minutes. During this time you'll enjoy soft music playing in the background and have a cozy blanket covering you if you like.
The Reiki practitioner then puts their hands over you depending on your concern. He or she may also lightly touch some parts of your body with your explicit consent. You may experience warm or tingling sensations during the session.
Now, let's talk about how reiki can help you get better sleep.
Using Reiki for Sleep
Your sleep can be disrupted with anxiety, stress, and fear. A lot of times, it may be hard to fall asleep because your mind and body can't seem to relax. 
Here are some ways Reiki may reduce insomnia episodes and improve your sleep pattern:
Reiki can help you feel more relaxed
There's considerable research that Reiki can help calm the nervous system. In a large 2019 US study involving more than 1,000 Reiki sessions, the researchers found that Reiki was able to help with issues such as relaxation, depression, and fatigue.
Similarly, a case study done in 2014 revealed that Reiki was helpful in improving sleep quality and patterns. 
Physiologically, Reiki can also help lower stress levels. This was shown in a 2011 UCLA study involving health professionals. In the study, their salivary cortisol levels were significantly lower after the Reiki session. Plus, there was a decrease in body temperature, providing a warm comfortable feeling.
In that same year, a randomized trial concluded that Reiki was helpful in reducing the stress level and anxiety of the participants.
You might be wondering, is the effect of Reiki just placebo?
Well, a comprehensive review done in 2017 showed that Reiki is more effective than placebo. Moreover, the study concluded that Reiki is a gentle complementary approach to heal both the body and mind, especially for people with chronic health conditions.
Reiki is empowering
When you're struggling with a sleep or mood disorder, you might feel powerless and like you can't do anything. By using Reiki, you get to be proactive and participate without the harmful side effects. You get a sense of control over your situation.
Reiki can make you feel more connected
As a touch-based spiritual practice, Reiki can help bring back balance and make you feel more connected to your core self.  By doing so, you can feel more at peace. 
In addition, Reiki may help you get a better sleep when you know that there's powerful energy inside you that supports your healing.
If you're looking for a Reiki practitioner, consider someone who has undergone training, especially third degree or master practitioner training who's qualified to teach and apply Reiki on other people. 
Feel free to book a Reiki session with us now. You can also have Reiki combined with one of our most popular treatments, Crystal Bed Therapy.
If you're interested in becoming a Reiki practitioner, or just want to learn more so you can self-administer, then check out our Events page as we frequently offer this training!
Note: This is for informational purposes only and not medical advice.