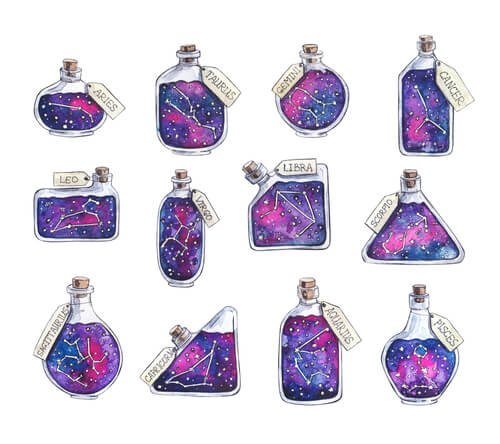 Who doesn't like learning more about their astrological sign and learning more about drinks? Well, this blog has you covered! Read on to find out the drinks of the zodiac that may suit you best!
The Zodiac Signs
Our 12 zodiac signs represent different caricatures or archetypes which reflect different tendencies and facets of human behavior. Each sign is categorized by an element, mode, and polarity. These categories give each sign a unique flavor and energy. Learn more about each sign and their special signature by pairing them with their counterpart below in the form of a beverage. If you truly embody many of the characteristics of your sun or rising sign, the corresponding drink below might very well be your favorite! 
Aries Sun or Rising – Double Espresso

 
As the first sign of the zodiac, Aries is typically a morning person.
Double Espresso for Aries 
A double espresso would help Aries fuel their day which is probably going to be packed with a lot of activity. Putting function over form Aries looks for a beverage that supports their desire to make big, bold moves regularly. Aries is a no-frills sign – just like this beverage – what you see is what you get. They can be a bit sharp, like the first sip of espresso that grows on you over time. As a cardinal, yang, fire sign Aries can be the spark and catalyst in your life that motivates you to get going. In some ways, Aries is literally the double espresso personified. 
Want to learn more about what's best for Aries? Then check out our blog on crystals for the Ram.
Taurus Sun or Rising – Caramel Frappuccino
Drinking your dessert is definitely something that would suit Venus-ruled Taurus Sun or Rising. Said to express the lower octave of Venus, Taurus loves all of the carnal pleasures and good food and drink are no exception. Taurus wants everything to be delicious. Delighting in any sensory pleasure is one of this yin, Earth sign's most favorite pastimes. Taurus has a slow, steady work ethic that enables it to accomplish more in a week than most people can accomplish in a month or a year. With a little caramel-laced caffeine, Taurus is ready to focus for long periods of time, roll up their sleeves and feel productive. 
Don't miss our blog on recommended crystals for Taurus. 
Gemini Sun or Rising – Arnold Palmer (half ice tea, half lemonade)
It's hard to make a decision as a Gemini because they have so many competing interests. The good news is that Arnold Palmer gives you two beverages for the price of one. The symbol that represents Gemini is the twins which further explains Gemini's penchant for duality and duplicity. As a yang, mutable, air sign Gemini loves to talk and converse. The Arnold Palmer is the perfect refreshing drink that can help support Gemini's gift of gab. Ruled by Mercury this sign has a mind that moves at lightning speed. A quick wit, thoughts, words, and ideas are always flashing through the mind of a Gemini. It would be wise for them to minimize their intake of caffeine since their racing minds can easily lead to feeling over-anxious anyway. The half ice tea, half lemonade is the perfect low caffeine compromise. 
Interested in learning which crystals are recommended for Gemini?
Cancer Sun or Rising – Chunky Monkey (Chocolate, Peanut Butter, Banana Smoothie)
If it's comforting and delicious, it has Cancer zodiac sign written all over it. Rich and decadent is typically the only language that Cancer speaks. Getting them to drink a green veggie smoothie or to skip the chocolate cake feels like a personal attack. Ruled by the moody Moon, Cancer is one of the most emotional signs and their food and beverage choices are usually selected accordingly. Cancer is always asking themselves "what am I in the mood for?" If it doesn't sound good emotionally, chances are it's not going to happen. Their moods are the barometer that influences what they want to eat and drink. It influences who they want to hang out with, and what they feel like doing in general. The Chunky Monkey smoothie is the perfect way for Cancer to feel healthy while secretly always eating dessert first. 
For added good luck, our blog, "Crystals for Cancer: 7 Must-Haves for Good Luck" provides the perfect crystal tips for Cancer. 
Leo Sun or Rising – Pina Colada w/ the fun Umbrella
Leo loves to keep the perpetual Summer vibes going and the Pina Colada is the perfect accompaniment. Leo thrives on being a little "extra" so make sure that this Pina Colada is topped with one of those cute little paper parasols. Leo's drink of choice needs to be fun, flirty, and eye-catching. Refreshing and delicious at the same time, Leo wants the best of everything. The more luxurious and opulent, the better for this fixed, yang, fire sign that is ruled by the life-giving Sun. Leo vibes are perfect for gathering with friends, enjoying life, and celebrating. Both Leo and the Pina Colada can turn even the drabbest of occasions into a party.
In case you're into additional pairings, also check out the 5 best gemstones for the lion.   
Virgo Sun or Rising – Wheatgrass
The debauchery and opulence stop with Virgo – the clean-up crew of the zodiac. This sign definitely prefers purpose over taste and appearance. Virgo represents purity and it rules digestion. This sign is Queen of the detox, the cleanse, and what you might consider "clean eating." Virgo loves health and is constantly seeking it in all kinds of holistic ways. Wheatgrass is a superfood that is said to eliminate toxins, boost metabolism, and aid digestion – all music to Virgo's ears. This mutable, yin, earth sign is constantly striving for efficiency and perfection and this can often be channeled into bodily perfection. Although it's great to nourish yourself with nutrient-dense foods, Virgo needs to remember that sometimes balance is more important than strict adherence to a certain code of personal conduct. Enjoy your wheatgrass and the occasional coconut milk milkshake too!
Libra Sun or Rising – Kava Tea
Libra is a mental air sign that is prone to over-thinking and over-analyzing. Kava tea can be the perfect soothing balm to a mind that is often on overdrive. Represented by the scale, Libra rules balance, harmony, peace, justice, cooperation, and relationships. Sipping on kava tea can help Libra achieve the inner balance and harmony it is so often looking for. Libra loves a good conversation and a beverage that they can sip slowly while engaging in stimulating banter is a match made in heaven. If kava isn't quite your taste, choosing a concoction that contains calming adaptogens like ashwagandha could be just what the doctor ordered for this sign. Some brands that may be pleasing to Libra's refined and acquired tastes are Mud Wtr, Rasa, or Dandy Blend. 
Scorpio Sun or Rising – Dirty Chai Latte
Just like the secretive and surprising Scorpio, the Dirty Chai latte brings more to the table than meets the eye. While frothy and spicy on the outside, the Dirty Chai includes the boldness of an espresso shot on the inside. This is similar to Scorpio's character – one of the simultaneously strongest and most sensitive signs of the zodiac. Although Scorpio is a yin, fixed, water sign it displays many characteristics of the fire element, leading to what some call "frozen fire." Scorpio prefers to live in the depths and is not content with chit-chat and surface-level existence. In the same way that chai tea may lack the density and texture of other drinks, the added shot or two of espresso gives it the depth and darkness that Scorpio craves. The added jolt of caffeine allows Scorpio to continue doing what it does best – analyzing human behavior and why people do what they do. 
Sagittarius Sun or Rising – Fireball
Did somebody rent a party bus?! It must have been Sagittarius! Ruled by giant and expansive Jupiter, Sagittarius will make any situation bigger, bolder, and better. If this sign had a motto, it would definitely be "eat, drink and be merry." As a yang, mutable, fire sign, Sagittarius brings warmth and optimism to all situations. Their great sense of humor easily makes them the life of the party and they'll be first in line for the ice luge of fireball. Addicted to anything amplifying and exhilarating, Sagittarius is often looking for a thrill. For the more sober-curious and philosophically-centered Sagittarians, their beverage of choice might be more like the Mexican hot chocolate – a fun non-alcoholic beverage that still comes with a kick. 
Capricorn Sun or Rising – Americano
Capricorn is always ready to get to work and increase their levels of productivity. Any distractions from the end goals of business and career success simply won't do. Capricorn will be the first to swear off booze forever, trading happy hour martinis for evening Americanos as their workday never really ends. Although tender on the inside, Capricorn always appears calm, collected, and a little bit stoic on the outside. The no-nonsense Americano offers the same streamlined stoicism that results in a caffeinated boost of energy. Devoid of frivolous sugary syrups and the creamy cover-up of milk or its nutty cousins, the Americano gives it to you straight while being incredibly effective at the same time. Capricorn is equally serious, mature and stream-lined. The disciplined quality of Capricorn allows it to accomplish much while being the backbone of the economy. Analogous to the energy of Capricorn, the coffee bean and the Americano is the foundation that makes all of the other fancier espresso drinks possible. 
Aquarius Sun or Rising – Kombucha
The first person to ever try Kombucha was probably an Aquarius. Somewhat edgy, mysterious, and ahead of their time, both Aquarius and Kombucha exude an eccentricity and rebellion against the status quo that is unparalleled. A strange mix of tea and alcohol – while not really being either – kombucha is difficult to describe just like its Aquarian partner. Partnering with sometimes surprising ingredients – like lavender or carrot, kombucha is an eclectic beverage. Initially Both Aquarius and kombucha might feel hard to pin down yet they are surprisingly good for you. Aquarius is a yang, fixed, air sign that will encourage you to think outside of the box and challenge every stereotype that you've ever had. Aquarius always has their eyes on the future and is constantly thinking about how to make it better. Kombucha gives you the uplifting effervescence normally privy to sparkling water with the added benefit of probiotics that will help ensure the future health of your digestive tract. Aquarius is often said to be 50 years ahead of its time. Just like kombucha, Aquarius has their eyes on the prize and works to bring their long term visions into reality. 
Pisces Sun or Rising – Ceremonial Cacao
The last sign of the zodiac, Pisces, is said to embrace and embody a slice of all the other eleven signs within them. Pisces represent spirituality, universality, oneness, universal love, dreams, and fantasy. The original empath, Pisces is incredibly sensitive to others' emotions and feels the sorrow of the world as their own. Ceremonial cacao is the perfect drink of choice to soothe their over-worked heart chakras and calm their extra nervous, nervous systems with a hearty dose of magnesium (a naturally occurring ingredient in raw cacao.) Ceremonial cacao is a great way for Pisces to connect with others and their higher selves – something this highly spiritual sign is often striving for. Cacao provides the support and feel-good boosters that Pisces might normally seek in the form of alcohol or drugs. The alcoholic drinks are more like slippery snake oil salesmen that lure Pisces into the fantasy of escape but leave them feeling traumatized. Instead, ceremonial cacao could provide the refuge and respite Pisces is looking for while offering up other health and energetic benefits at the same time. 
Guest Blog Contributor: Allison Chamberlain Jones – Astrologer and Spiritual Business Coach Extraordinaire
Allison Chamberlain Jones is a spiritual business coach, entrepreneur, astrologer, yoga instructor, and reiki practitioner. She is the owner of Allison Jones Coaching & Astrology – a virtual company. She believes in busting the old paradigm myths that say money is evil and that you can't be spiritual and rich. She loves helping people give themselves permission to experience inner and outer abundance and create the life and business/career that makes their soul sing. She's been a professional astrologer and yoga teacher for over 12 years and studied these two sciences for many years before that. She's been on an entrepreneurial journey for over 12 years and has answered the call to become a spiritual business coach in 2020. She loves creating transformational group programs combining spirituality and practical business strategy. She also loves working with clients 1:1 to really dive deep. She lives in Bradenton, FL with her partner Victor, and cat Lennox.
Book an astrology session or coaching session with Allison here!